FREE Downloadable Guide from The Event Planners Workshop
15 STEPS TO DESIGN, BUILD & EXECUTE THE PERFECT EVENT, MEETING OR CONFERENCE.
FREE Guide to help you through the process of mapping out your event plan. This guide is for anyone who has an idea for an event, has been asked to create an event, or is responsible for managing company meetings and conferences.
I created this 15 step formula as a checklist to help myself understand what my supervisors and clients were asking me to create. I needed a formula, a checklist, that made sure I didn't forget to ask all the important questions. I needed a document that I could refer to when the logistics of the planning, or the excitement of the creation, overwhelmed the purpose.
After using this formula for myself for the past 5 years, I started to share it around and now, I want to share it with you. It's simple to follow, it's 15 steps, and comes with a free webinar where I go through the entire list. Grab your free guide at the button below.
Who is Sally Porteous?
Sally is a Brisbane based event planner who has more than 20 years experience in planning, producing and leading events in South East Queensland and around Australia.
Sally coaches DIY, professional and one-time event planners, through a well practiced formula that allows them to find the creative space to produce exceptional audience experiences. Sally's portfolio is extensive and you can read all about her exciting projects on the portfolio page.
Sally is obsessed with enhancing people's capacity and capability to produce better events, more effective meetings and greater audience experiences. Sally's life's work is to make it easy to produce events, fun to create great audience experiences, and take the stress out of the event planning process.
So, as I mentioned, I have a 15 step event planning formula that you can get for FREE! Simply click the button above to receive it instantly.
But, if you're ready to get your event launched and begin this exciting process, the full version of the workbook is already live! For a limited time it's only $47. I want as many people as possible to have this workbook so I've made it ultra cheap to build momentum and community.
So, click THIS link below if you want the full workbook, or read on to see what's included.
The full version of the Event Planners Workbook that includes:
How to design the perfect event
How to set up your marketing to get the right people there and sell out
What you need to know to get your event planning going
and what resources and information you will need along the way
PLUS understanding and negotiating contracts, compliance, licenses and COVID safe event plans
Click here to buy the full version that not only explains everything you need to know to plan the perfect event, but helps you outline every step you need to think about.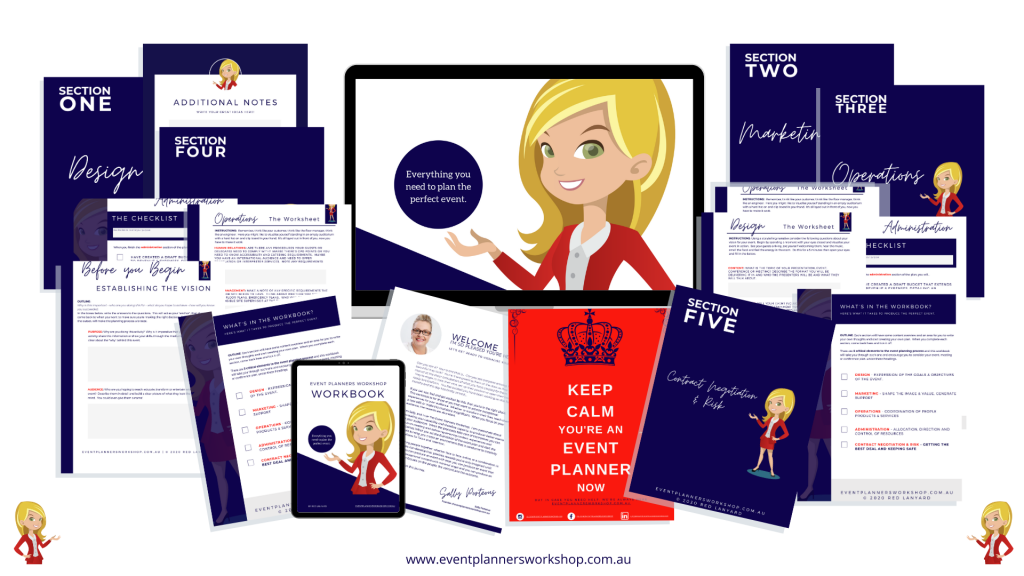 But if you're not sure if you need the whole thing, you can click here and download part of the DESIGN section of the workbook that will help you get your event from IDEA TO LAUNCH.
What's in the Workbook?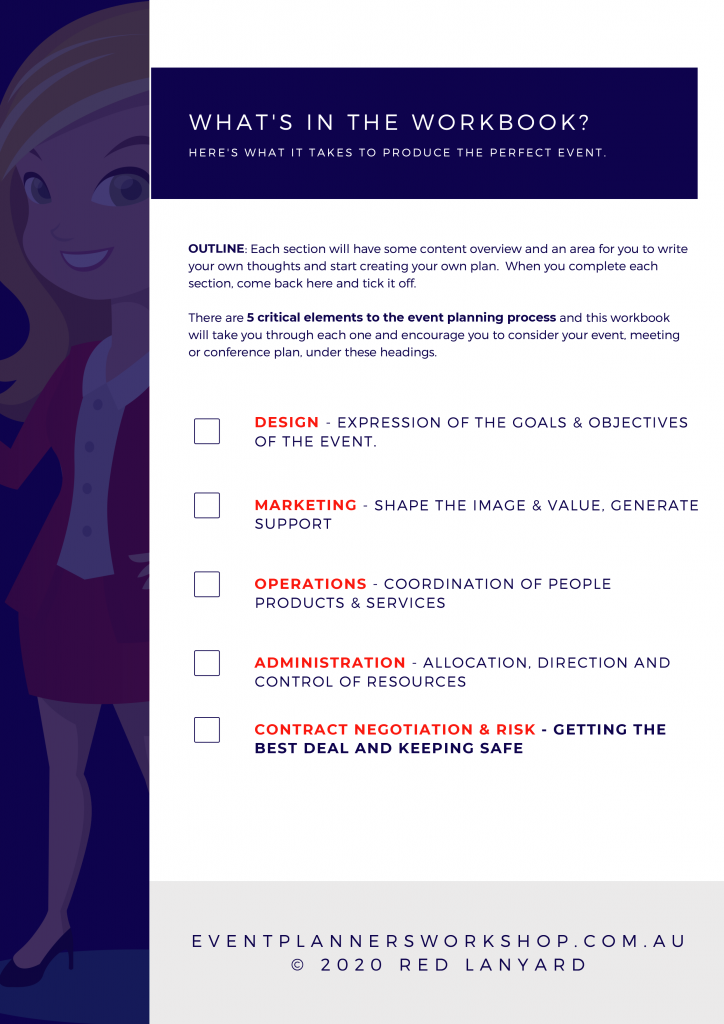 Are you ready to take your event from Idea to Launch – Maybe the FREE DESIGN section is all you need?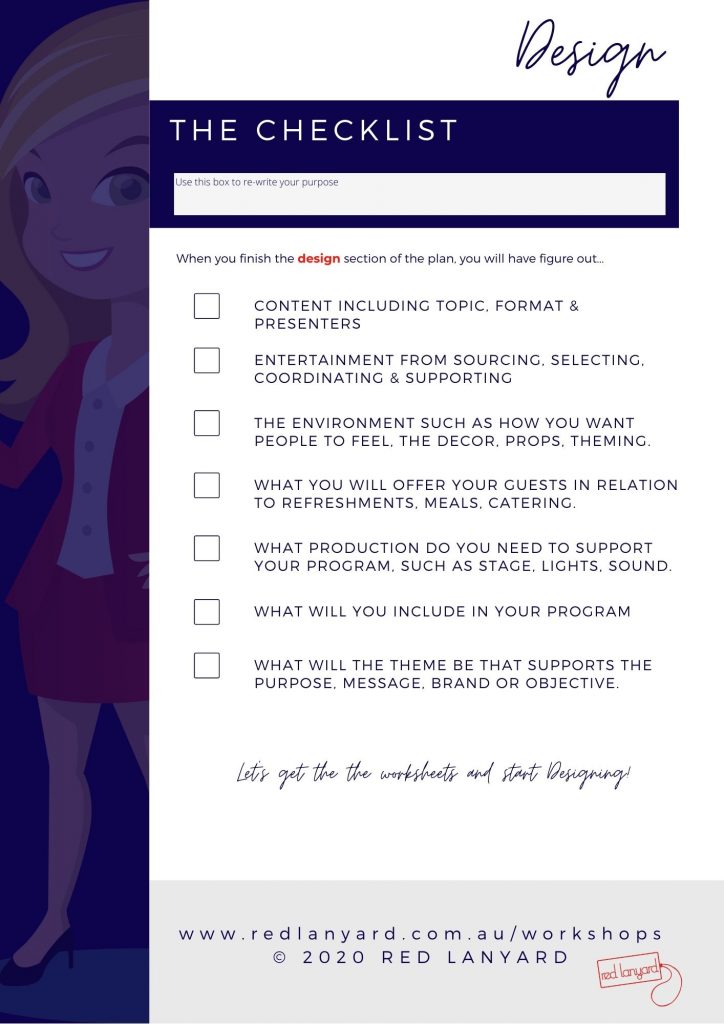 But if you're ready to get your event planned and launched…..
Here's a Sneak Peek at the rest of the WORKBOOK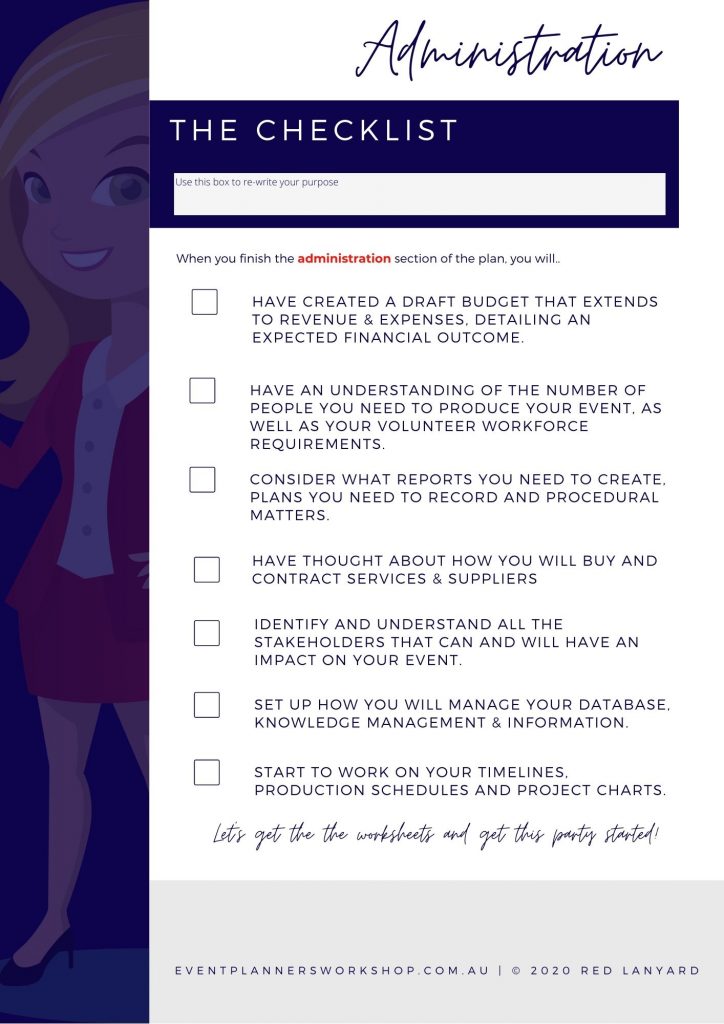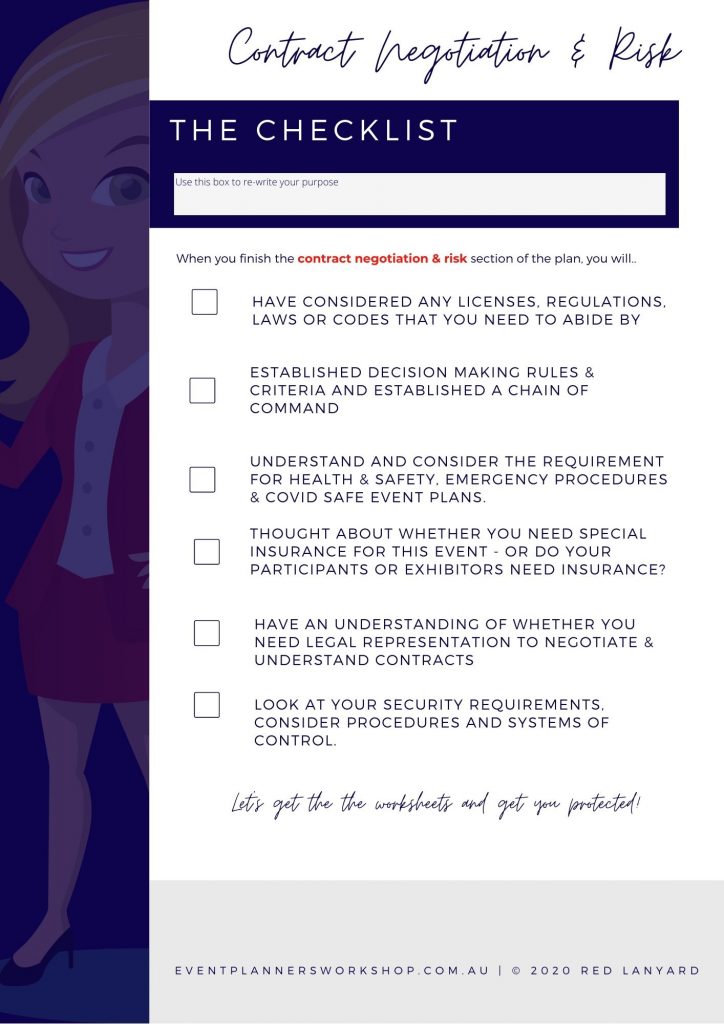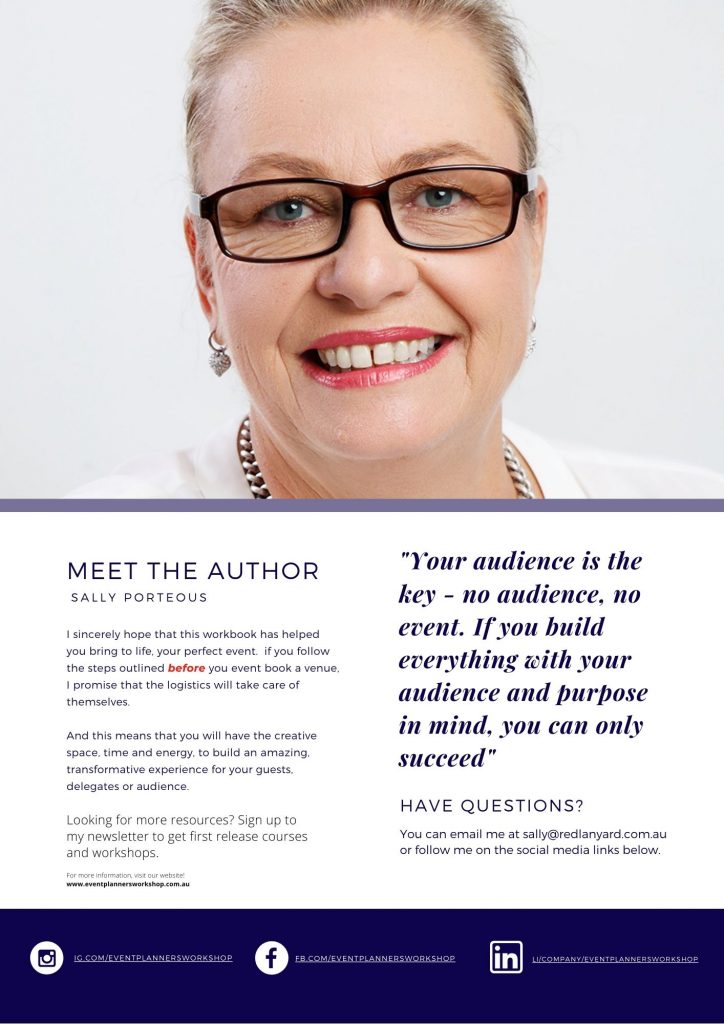 Planning events, conferences, meetings, retreats or any type of gathering can be a joyous, pleasurable experience when you can move forward with confidence. This workbook will give you the confidence to create an incredible audience experience.
Click on the button below to begin your journey and I can't wait to share your event with you.